ISET Economist Blog
To Subsidize or Not to Subsidize Georgia's Wine Sector?
Monday, 12 October, 2020
"Rtveli 2020" – a traditional vintage and rural harvest holiday in Georgia accompanied by feasts, musical events, and other celebrations started on August 26. This year, the Government of Georgia (GoG) is subsidizing the grape harvest to support growers in selling their products. 0.3 GEL of the total 0.8 GEL per kg of Rkatsiteli or Kakhuri Mtsvane is subsidized. In the case of extreme necessity, the GoG will be involved in the purchase of grapes as well. Supporting the wine sector is part of the anti-crisis plan to handle the economic challenges caused by COVID-19.
Since rtveli is not over yet, the final statistics on the quantity of grapes sold by farmers and their incomes, are not available yet. By October 1, 165 wine producers and around 21 thousand grape growers had participated in "Rtveli 2020"; furthermore, around 227.2 ths. Tons of grapes were sold and the corresponding income for farmers was 235.8 mln. GEL. Farmers' incomes (314 mln. GEL) and the quantity of grapes sold (263 ths. tons) were particularly high during the last two years (2018-2019).
2020 is not the first year when GoG has subsidized the grape harvest. In general, GoG has used two types of subsidies: direct and indirect. Direct subsidies involve cash payments to farmers per kg of grapes. An indirect subsidy is organized through state companies responsible for purchasing grapes from farmers.
GoG started to subsidize the sector in 2008. Initially, the decision was made to offset the negative effects of the Russian embargo and encourage the viticulture and winemaking sectors in Georgia. The total subsidy issued for grapes (direct payments to farmers) from 2008 to 2017 amounted to 192 mln. GEL.
Table 1. Total volume processed and subsidies, 2008-2017
| | | | | | | | | | | | | |
| --- | --- | --- | --- | --- | --- | --- | --- | --- | --- | --- | --- | --- |
| | 2008 | 2009 | 2010 | 2011 | 2012 | 2013 | 2014 | 2015 | 2016 | 2017 | 2018 | 2019 |
| Total volume processed (ths. ton) | 40.1 | 22.4 | 23 | 43.5 | 42 | 92.8 | 122.7 | 148.1 | 117.8 | 133.4 | 250.1 | 275.2 |
| Direct payments to farmers (mln GEL) | 6.1 | 5.5 | 4.7 | 8.7 | 14.8 | 32 | 32 | 35.7 | 35.5 | 13.6 | 0 | 0 |
Source: National Wine Agency, 2020
In addition to direct payments to farmers, during 2016-2017, GoG spent on average 40 mln. GEL per year buying the excess product and even damaged grapes from farmers through the state company "Akura".
In 2018, state representatives announced that it would be the first grape harvest without state subsidy since 2008. However, the state company "Akura" was instructed to take the necessary measures to receive and process grapes from "Rtveli 2018". "Akura" had to buy the grapes left on the market after private companies purchased grapes. The National Procurement Agency approved a 10 mln. GEL grape procurement project to implement the purchase. The same thing happened in "Rtveli 2019"; GoG subsidized the sector through state company "Akura", and spent 80 mln. GEL on direct purchases from farmers.
SUPPORT THROUGH THE NATIONAL WINE AGENCY (NWA)
GoG actively supports the wine sector through the NWA. Among other things, NWA controls the quality and certification procedures for wine production and promotes Georgian wine in foreign markets. From 2013-2016, GoG's spending on support for the wine sector (including grape subsidies, promotion of Georgian wine, and campaigns increasing awareness) was around 40 mln. GEL (Figure 1).
Starting from 2017, GoG decreased its spending to a minimum of 9.2 mln. in 2018. Meanwhile, the volume of processed grapes as well as wine exports have been increasing and reached their maximum in 2019. In 2019, Georgian wine producers processed 271 ths. tons — the highest indicator over the last 30 years and exported 70.1 mln. liters of wine.
Figure 1. The volume of processed grapes, wine export, and government spending in the wine sector at current prices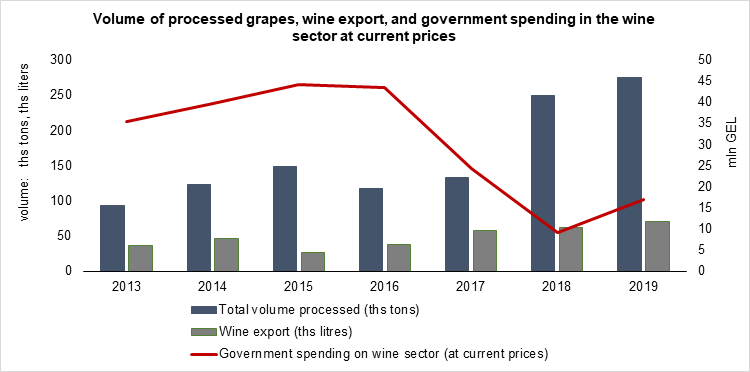 SO, DO THESE SUBSIDIES WORK OR NOT?
Some studies argue the positive impact of subsidies on firms' performance. The subsidies can increase the supply of goods, lower their prices, and make subsidized goods and services more affordable to consumers. These subsidies might prevent the long-term decline of industries. They might also contribute to higher investments in enterprise development. When, for example, interest payments are co-financed by the state, subsidies reduce the cost of money for firms. This allows firms to spare resources and invest in their enterprises' further development.
While subsidization is utilized all over the world to promote growth and is believed to address market failure (Summers, 1991), subsidies distort markets and are associated with the following negative outcomes:
• Subsidies create the wrong incentives among market players who become dependent on state subsidies. "Akura's" purchase of low-quality grapes might lead some farmers to neglect quality;
• Some businesses are preferred over others and gain a competitive advantage due to their preferential treatment. This leads to a distorted distribution of investments over industries. Many producers might invest in vineyards due to the availability of state subsidies instead of considering other industries;
• Private investment in R&D might decline due to subsidies. Given that the major source of public spending is taxes, increasing taxes in order to generate more funds for subsidies diminishes the enterprise's revenues and reduces its ability to invest in R&D;
• Production subsidies provided to increase the production of goods and services might lead to overproduction. This is the case when "Akura" intervenes in the market and buys excess grapes;
• The subsidized industries might be lobbied due to the availability of subsidies which again results in the unfair treatment of industries.
Given that during the last 2 years (2018-2019), even in case of reduced direct subsidies to farmers, the sector performed well in terms of production and exports, it is time for the state to consider terminating subsidies in order to see how the sector performs in their absence.
WHAT IS AN ALTERNATIVE TO SUBSIDIES?
Given that the state, by its nature, usually lacks incentives to invest as effectively and efficiently as the private sector does, its role on the market should be directed more towards designing an efficient public policy and regulatory framework for businesses. So, what measures other than subsidies can the state undertake to support the wine industry?
Some solutions include further promoting Georgian wine on international markets and diversifying trade partners; ensuring producers' adherence to food safety standards in order to ensure high-quality grapes and wine, and providing high-quality extension services to grape and wine producers. All of these measures will contribute to sustainable, long-term growth in the sector and will spare state resources currently spent on subsidies.
The views and analysis in this article belong solely to the author(s) and do not necessarily reflect the views of the international School of Economics at TSU (ISET) or ISET Policty Institute.